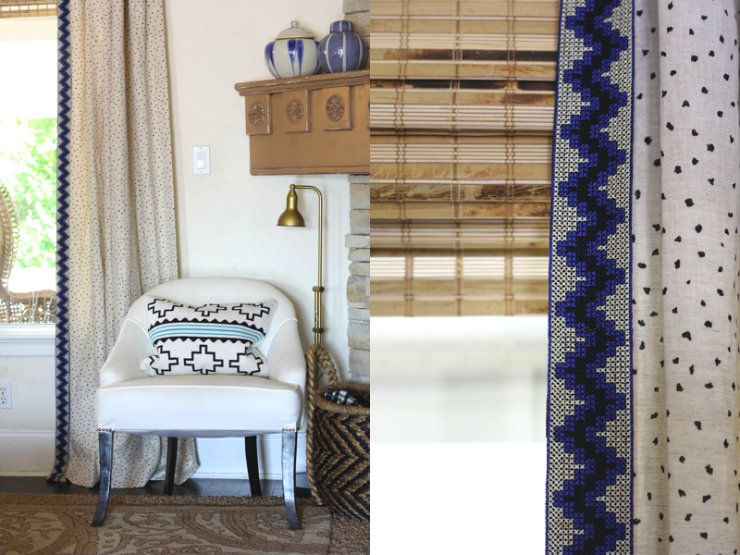 Today is your lucky day if you happen to be as obsessed with trims as I do. If you are savvy with your trims then you know that great trims can be pricey. Well being that in my mind everything needs to be trimmed out then you can imagine my joy when I found a little shop that sold pretty trims at $4.00 or less per yard. The last few years I have slowed down on buying things even if they are a good deal because I don't want a repeat of 2006 when I was almost borderline trim hoarder...
Anyway I have been mixing a ton of blacks with blues and so when I found the above trim for drapes then I felt quite satisfied. In case you were wondering..one time in junior high a girl told me that her biggest pet peeve was when people mixed blue and black. Funny how that always stuck out in my mind all these years. Seriously 20 years later I have this inner thing inside of me that wants to deny mixing those two colors. Well I am happy to report that after intense therapy I am finally ok..ok to mix blue and black that is. Seriously though
Windsor Smith
said it was ok..I asked her..and I really like her design eye.
Speaking of eyes I've heard another good way to to mix blacks and blues is to punch someone.....or have killer dance moves like me and somehow knock you eye on your knee..I know weird.
So I wasn't planning on sharing this but I just felt I needed to illustrate that fact that my body moves. Something about a girls weekend creates this intense desire to do the jump splits even if it has been probably 20 years since the last attempt. Did I just share that..well yes I did.
Oh and back to the trims. You can find them

here

.