Don't you love it when people give you good advice on something and then you actually use it? Well I want to share the same love in hopes that if you have the task of custom slipcovering something that you will better know how to get the results that you want. Well first off I had considered having a slipcover made for a settee that I had because I felt it would be a good option with having kids. I did not want it to look like a frumpy run of them mill slipcover that I may or may not have bought at a discount shop right after I was married (bless our poor ugly sofa). Anyway about that point I came across a very helpful blog post from
Naomi from Design Manifest
. After that, I solidified the decision to go forth with a slipcover. Want to see her slipcovered sofa..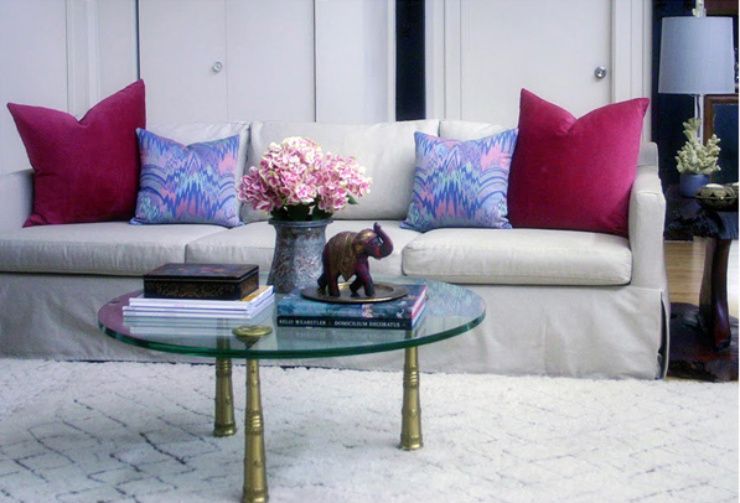 Not too shabby...eeeh.
Truly because of her I was able to really convey to the upholstery shop what I wanted. Like for example would you ever think of telling them to put the zipper on the side rather than down the middle...just in case it would ever be a floating piece of furniture and you needed that zipper to be much more conspicuous? Anyway I thought it would be fun to pass along Naomi's advice in case you missed it the first time.
Without further ado here are Naomi's words of advice that I used when having my custom slipcover made:
Tip #1 Get a custom slipcover
Custom slipcovers may cost a little more, but will fit your sofa like perfection and the quality will show through.
They come in pieces: a fitted section that covers the body and arms, and then separate covers with zippers for each loose
seat or back cushion. A better fit means less shifting with daily use.
Tip #2 A single skirt adds casual elegance
This is purely my opinion, but I love the look of a straight skirt across a sofa. I didn't want any added seam definitions. Sometimes I'll run a seam along the base of the sofa (where the feet begin) to help hold it in place, but for my own sofa, I wanted more of a flowing feel. I also did NOT want any pleats. Many slipcovers have a pleat at each cushion, or one in the middle, but I wanted a single piece of fabric across my base. I thought it looked cleaner, and thus kept the sofa more modern.
Tip #3 To welt or not to welt
Adding welt (cording) to the cushions, arms and back can help add definition and be a nice tailored look. Naomi said that she opted for no welting on her sofa because it was more modern and wanted to soften the lines up a bit.
Tip #4 Don't ignore the back
If you don't specify, your slipcover fabricator may put the zipper right down the middle of the sofa back. The horror! My sofa floats in my room, so that would certainly not be OK. I have my workroom put the zipper in the back corner every time. It's a nice clean look and it gives you flexibility. Your sofa may be against a wall now, but it doesn't mean it always will be.
Tip #5 Choose the right fabric
Cotton and linen are the most common slipcover materials. Cotton can be thrown in the washing machine. White cotton can be bleached. It's hard to beat that in terms of practicality. For families with young kids, I like to have two made. This lessens the wear and tear on the slipcovers and allows one to be on while another is being washed. For my own sofa, I was less concerned with practicality and more concerned with look and feel. Fact of the matter is that linen just has a classier look and feel than cotton. I spot treat any stains and find that it's held up great so far.
*********************
When I went to drop off my sofa I actually brought in a couple of inspiration photos and really tried to specify that it needed to be as fitted as possible. In the end I am mostly satisfied. I still wanted to do the slipcover in a different color but went with a white indoor/outdoor fabric because of the 10 hands and 50 fingers that would assault the sofa. You would never know that it was an indoor/outdoor fabric because it is not stiff like many others are. I am really happy because it has been so easy to clean up being that it is an indoor/outdoor fabric. I am assuming that if there were ever a time that I needed a little extra help getting a stain out that I could bleach it since it is white. NOTE: Before I bought the fabric I took home a swatch a poured ketchup and grape juice all over it, let it sit then washed it off with a little soap and it all came clean. Well how about I just show you it already.
In the above pictures I am playing around with some of the detailing..like adding a fun trim to the slipcover. I also have yet to find a fabric that I want to use for a large bolster pillow so of course I pulled out the fabric that I always pull out (hope you aren't sick of it yet). Also I am seriously thinking of making new drapes out of that coral-ly salmon color. ..kind of all depends on what my new commissioned painting will look like when I get it...I can't wait to share it with all of you. You may even know who the artist is.
There you have it. I am just a Mom who excessively appreciates home decor and design but also has lots of jr. bacon cheeseboogers around the house so it is a good day when compromise can happen and I don't feel like I have to totally sacrifice my style.
Thank you Naomi for your advice. If you all want to be inspired you can visit Naomi at Design Manifest right
here
...yes the same Naomi that recently had her home featured on Design Sponge. You really should go to her blog to check out her lovely color infused home.
Would you, or have you ever had a custom slipcover made?